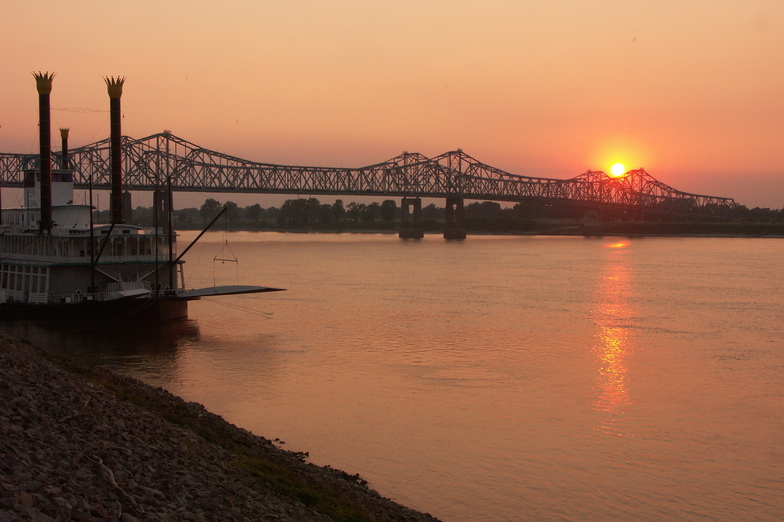 I'm actually not going to say much about the big vote today. I know how I'm leaning, but I'm of the opinion that whoever wins - America is the loser. That being said, I'm of the firm opinion that if you don't exercise your right to vote- you lose your right to bitch. Not that that ever stopped anybody. Moving on........
This is about the 3rd time that I've started to blog since we lost CoCo. It hit us that hard. But I need to do this.
DKW and I celebrated our 3rd anniversary on October 31st. We took a little trip and spent a couple of nights in Natchez. We stayed at the
Blufftop Bed and Breakfast
- where we went on our honeymoon. Its a very nice place and very restful. It overlooks the Mississippi River and a ways into Louisiana. I can't recommend it enough.
Speaking of places I can't recommend enough. As we meandered back home we came across a little restaurant located in an old brick train station in Flora, MS (outside Jackson). I can say without reservation that I had the absolute best burger I've had in over 20 years. The
Blue Rooster
is the best place you've never heard of. They hand-make every 8 ounce patty from fresh mississippi beef and it is
cooked to order
! When is the last time you had a great medium rare burger. The next time I'm in the Jackson area - I plan of making this a stop. You should too.
MSU has now suffered two beatdowns in a row and are 7-2 on the year. As much as I want to be optomistic - I'm afraid a 3rd beatdown is on the horizon as we travel to LSU this weekend. C'mon Dawgs! Time to bow up!!!
SHS finished their regular season with a victory over Neshoba Central 21-10. They have gone undefeated in Region 2-5A for the second year in a row (7-0). Their over all record is 8-3. The playoffs start on Friday, (Nov. 9th) with Starkville hosting Region 1-5A's #4 seed Saltillo High. The Tigers are 7-4 on the year and 4-3 in Region 1. (Their 3 losses all to the 3 higher seeds). Should be a very close game.
Everyone have a great day!