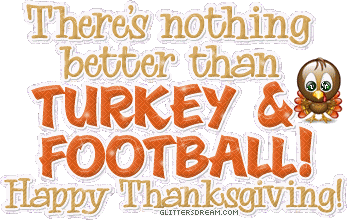 I'm not going to go all maudlin and weepy listing all the things I am thankful for, cause there are tons - and I would end up forgetting someone or something. If you are important to me - you already know this. I try to make a point of it all during the year - not just at holidays. But - that said - "Family" - yeah you - "I love you and appreciate you". Enjoy your holiday - wherever you're located.
Well, after losing to Alabama (25-20), MSU made a statement with a 51-0 trouncing of Vanderbilt. The Dogs are still in the mix for the College football championship, but there chances took a hit when "That School Up North" lost big time (30-0) to Arkansas. It would have made the "Egg Bowl" at more attractive game to the selection committee, but not so much now that TSUN has 3 losses. But MSU needs to take care of business and continue the beat-down of the battered Rebs. Then they just have to hope their 11-1 resume is attractive enough to the selection committee. Of course it wouldn't hurt if Bama lost to Auburn ("War - DAMN -EAGLE!) or the Gators put a "chomp-chomp" on Florida State. So - yeah - hunting Saturday morning & football - noon-ish on. The "Egg Bowl" is a 2:30 start on CBS.
Friday, the Starkville High Yellowjackets will be playing in round 3 of the Mississippi 6A championship. The game will be here in Starkville against the South Panola Tigers. Both teams are ranked #1 in their regions and both were at home last week. Since both are undefeated, the game is at Starkville since they are the highest ranked team (#1 in Miss. &
#2 in the nation - according to Maxpreps.com
.) The winner will be the Miss. North 6A champion and will play the South 6A champion in the State Championship game - which is being held this year (for the first time) in Mississippi State's football stadium. So SHS would have played every playoff game at home this year. GO JACKETS! ! !
That's about all I have for now. I wish everyone a safe and enjoyable Thanksgiving.
Everyone have a great Holiday!