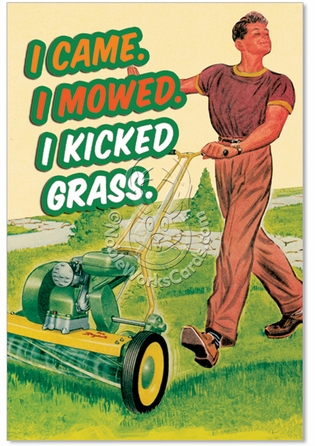 Uh- Huh! I did!
OK, I've not really been lazy. I've had a lot of things going on that I've been working on, but I just didn't feel like writing anything. Not that that is any excuse, but its just taken time to get my mind into it.
MSU went 2-2 in the SEC baseball tournament. Not good enough to win it, but its a "Good News, Bad News" deal as far as the regional they are going to. The good news is that they made a regional and are the #2 seed. They will play #3 seed, San Diego State at 1:00 (central) on Friday. That night, the #1 seed (U. Louisiana-Lafayette) will play the #4 seed, Jackson State. These games are being played on the Ragin' Cajuns' home field. By coincidence, in the lastest College Baseball poll (out today), ULL (46-4) is the new #1 team in the nation. So if MSU wants to return to Omaha this year, it won't be easy (if it ever is).
My oldest son and family came for a short visit yesterday and it was nice to visit with them all. We grilled out (burgers and hot dogs) and went fishing for a bit. He caught a nice stringer of bass. So it was a good visit.
Friday (23rd) I was finally able to get my mowing (3 acres) done. We hadn't had rain for a solid week, so it was fairly dry - and it had been 5 weeks since I was last able to mow, so it was pretty deep in places. I glad I got it done, because its supposed to rain (AGAIN!) most of this week.
Everyone have a great day!