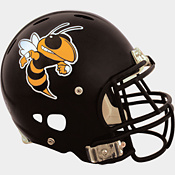 For the weekend past - it was pretty enjoyable. MSU did get beat pretty soundly by Arkansas on Saturday (44-17)- but that, unfortunately, was expected. The good news is that we came out of it relatively healthy and we are favored over Ole Miss by 18 in the "Egg Bowl" on Saturday (26th). Once we trounce the Rebels, MSU will be Bowl eligible - with the most likely bowl destination being Memphis or Birmingham.
On Friday (18th), my
SHS Yellowjackets defeated the West Point Green Wave
20-14 to advance in the 5A playoffs. This coming Friday we will (once again) play Ridgeland High down in Jackson. We played at Ridgeland on October 7th and barely pulled out a 26-23 victory. Its always tough to beat a team twice in one year and even more so with a trip to the Dec. 3rd 5A State Championship game in the balance.
On Sunday, My
AFC West leading Raiders
pulled a tough Win (27-21) at Minnesota. The Raiders get Chicago in Oakland next Sunday. The Bears will be without QB Jay Cutler as he got hurt in their defeat of San Diego yesterday (which also benefited the Silver and Black.)
Thanksgiving will be here shortly and if I don't get back on here before then - I want to pass my best wishes to all.
Everyone have a great day!